Vice-Chancellor's Awards for Impact
The Vice-Chancellor's Impact Awards were established to recognise and reward those whose research has led to excellent impact beyond academia, whether on the economy, society, culture, public policy or services, health, the environment or quality of life.
Nominations are initially judged at School level, with one prize of £1,000 being awarded for the best impact in each School. An overall best impact is selected from the School winners with the help of external advisors, with an additional £1,000 awarded.
Vice-Chancellor's Impact Awards 2018
The University received 40 nominations (involving 49 named researchers) for the Impact Awards in its third year of running the scheme. These nominations were from across all Schools, and from a range of staff: from postdocs to senior professors. The overall winner was selected on the advice of Andrew Nairne, Director of Kettle's Yard and Jane Osbourn, VP Medimmune, and the winners were announced at an awards ceremony on 9 July 2018, hosted by Vice-Chancellor Professor Stephen Toope. Pictures from the ceremony appear at the bottom of this page. The winning nominations were:
 

Overall winner

School of Humanities and Social Sciences

 

Professor Marc Weller

Department of Politics and International Studies

Making and sustaining international peace

This application draws on a ten-year research programme funded at a level of approximately USD 1.5M by the Carnegie Corporation of New York addressing self-determination and ethnic conflicts, further support from the UK government (FCO) on transitions to democracy after conflict, and grants from Humanity United and the ESRC on Legal Tools of Peace-making totalling around GBP 1M.

Immediate impact on on-going, high-level peace negotiations, deploying the project outputs to assist the mediators and the sides in the inter-ethnic negotiations in Myanmar, the UN-led negotiations on Syria, discussions on Catalonia, the independence of Kosovo, Sudan and South Sudan, Somalia and several others;
Mid-term impact through dissemination of our Legal Tools for Peace-making data-base to the United Nations, Group of Friends of Mediation, Organization of American States and the EU;
Long-term impact through development of case-studies and specific peace-settlement options, and deeper interdisciplinary work on peace-making through our project.

 

School of Technology

 

Professor Florin Udrea

Department of Engineering

Cambridge CMOS Sensors

Sensors that sniff the air can warn us of pollution in city streets, offices and homes. Breathe on these sensors and they can check our health. But they are normally big, heavy and drain batteries quickly.

Professor Florin Udrea and his team set out to create environmental micro-sensors ultra-efficient and small enough for smart phones, watches and air purifiers in smart homes. Their spin-off, Cambridge CMOS Sensors, was acquired by ams AG in 2016, which is now shipping products. Cambridge Enterprise celebrated one of its best ever investments with an upfront 4.7x return and the promise of 10x in 5 years.

 

School of Biological

Sciences

 

Dr Marko Hyvönen

Department of Biochemistry

Production of growth factors for stem cell research

Applying expertise acquired as structural biologists, we have developed efficient methods to produce growth factors in exquisitely high quality. These complex proteins are essential for stem cell research to differentiate stem cells into specific cell types found in our bodies. Our methods enabled us to supply growth factors at high quality and reduced cost to the stem cell community locally, facilitating world-class research.

Using translational funding from the BBSRC we are now designing improved growth factors. We have spun out a company to supply these proteins for researchers around the globe and secured an Innovate UK grant for the company.

 

School of Physical Sciences

 

Professor Julia Gog

Department of Applied Mathematics and Theoretical Physics

Harnessing mathematics to help control influenza

Predicting the evolution of the seasonal human influenza virus to better inform vaccination selection is critical to controlling the incidence and severity of influenza each year. Additionally, a rarer global outbreak of a deadly influenza virus (pandemic) would have severe consequences on loss of life and the economy and is viewed by the UK government as a major threat to the UK due to both its high likelihood of occurrence and severity of outcome. Hence predicting the spread of a pandemic is essential to informing control strategies. Researchers at DAMTP have offered major contributions to addressing both of these challenges.

School of Clinical Medicine

 

Professor Timothy M Cox

Department of Medicine

Innovative treatments for lysosomal diseases

Niemann-Pick C, Tay-Sachs, Sandhoff and Gaucher diseases are genetic lysosomal diseases that affect several organs, including the brain, resulting in painful symptoms, neurological complications and early death. Professor Timothy Cox is a leading UK clinical investigator for lysosomal diseases, exploring the rebalancing of excess production of the toxic sphingolipids, which cause these diseases. His work has developed effective treatments that have been introduced into the clinic improving patient outcomes. This research has also identified a definitive correction of the cruel children's condition, Tay-Sachs disease, by using gene transfer. After successful preclinical work, now with regulatory support and orphan drug designations, Cambridge Gene Therapy, a University spin-out, is accelerating the clinical programme for this disease.

School of Arts and Humanities

 

Dr Ryan Williams

Centre of Islamic Studies

Re-imagining citizenship

Dr Ryan Williams's research on Islam and society has had a wide-ranging impact on public understanding of Muslims and on professional practices and policies in criminal justice settings nationally and internationally. His work on the borderlines of religious studies and criminology challenges practitioners and policy-makers to think holistically about social inclusion and the role of religion in contemporary society. His research has been incorporated into: guidelines on countering prison radicalisation, adopted by the European Commission in 2017; the evidence base for the Lammy Review on equality and implementing its recommendations; a course on the Good Life Good Society, adopted in 2016 in a high security prison.
The 2018 Impact Awards were held in partnership with the Public Engagement with Research Awards. The photography is credited to Jacqueline Garget.
For more information about the Impact Awards, please contact Catherine Hurley, Deputy REF Manager (Impact) at impact@admin.cam.ac.uk or 01223 7 39201.
---
Pictures from the ceremony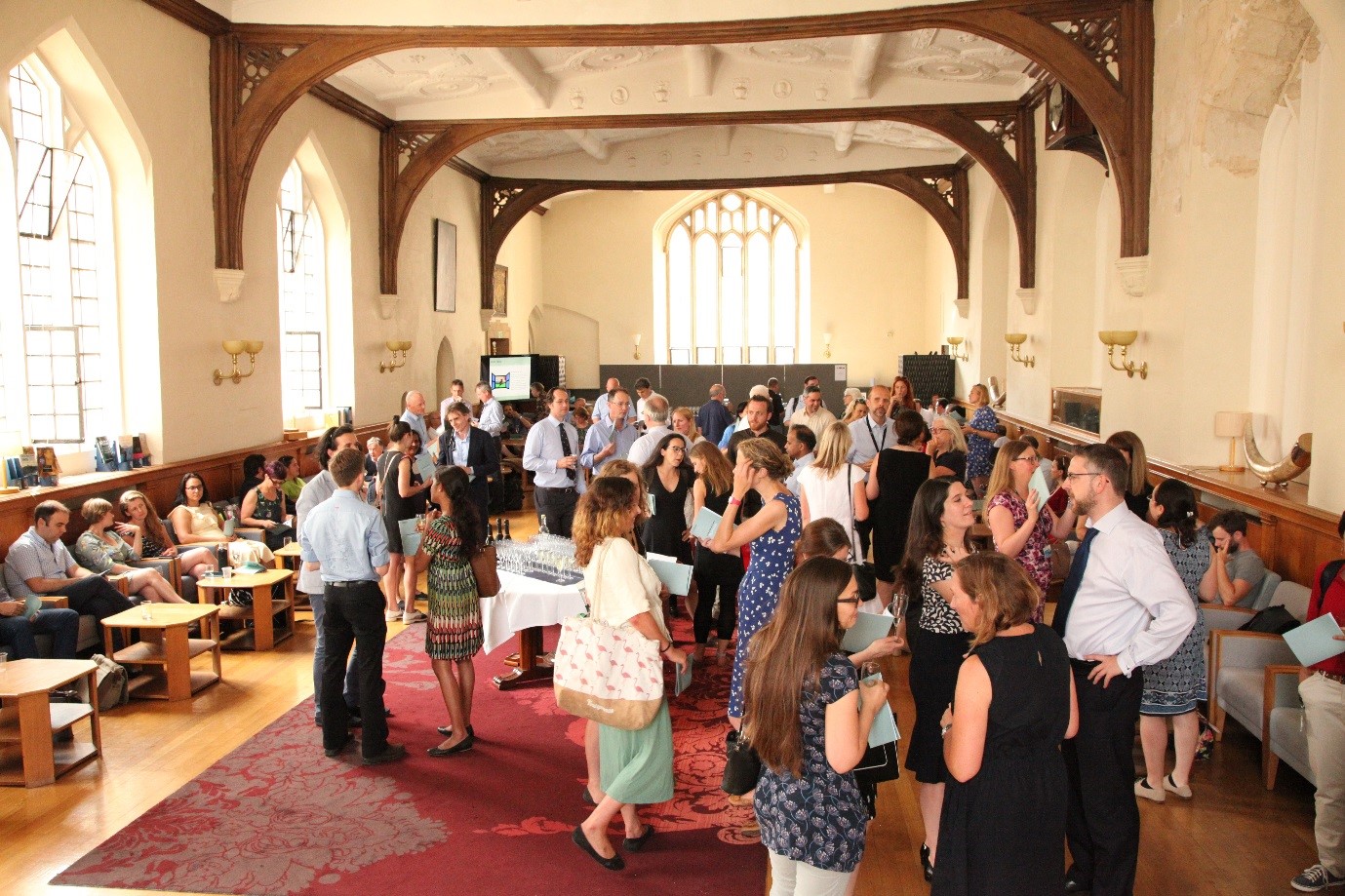 The Vice-Chancellor's Impact Awards Ceremony 2018, Combination Room, the Old Schools
---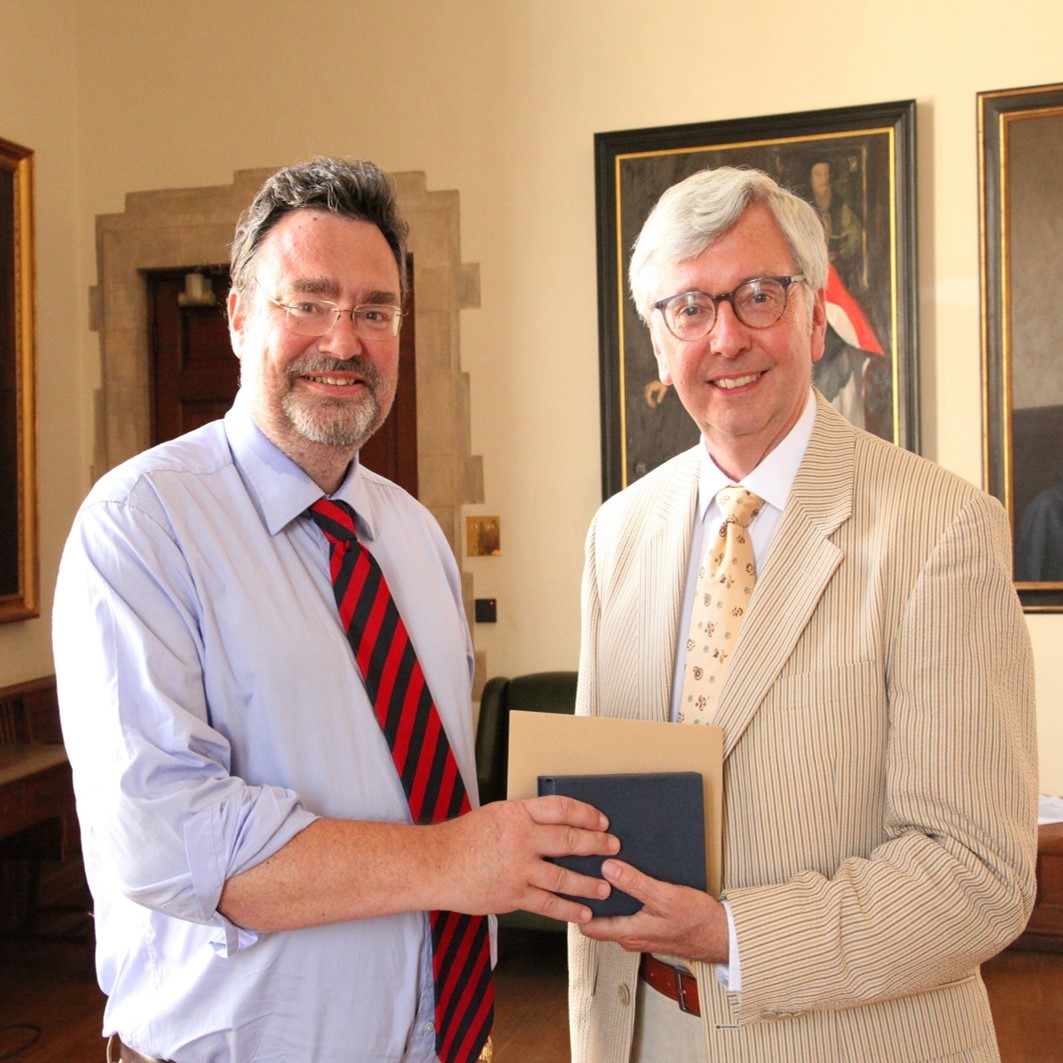 Professor Marc Weller (from School of Humanities and Social Sciences) with Vice-Chancellor Professor Stephen Toope.
---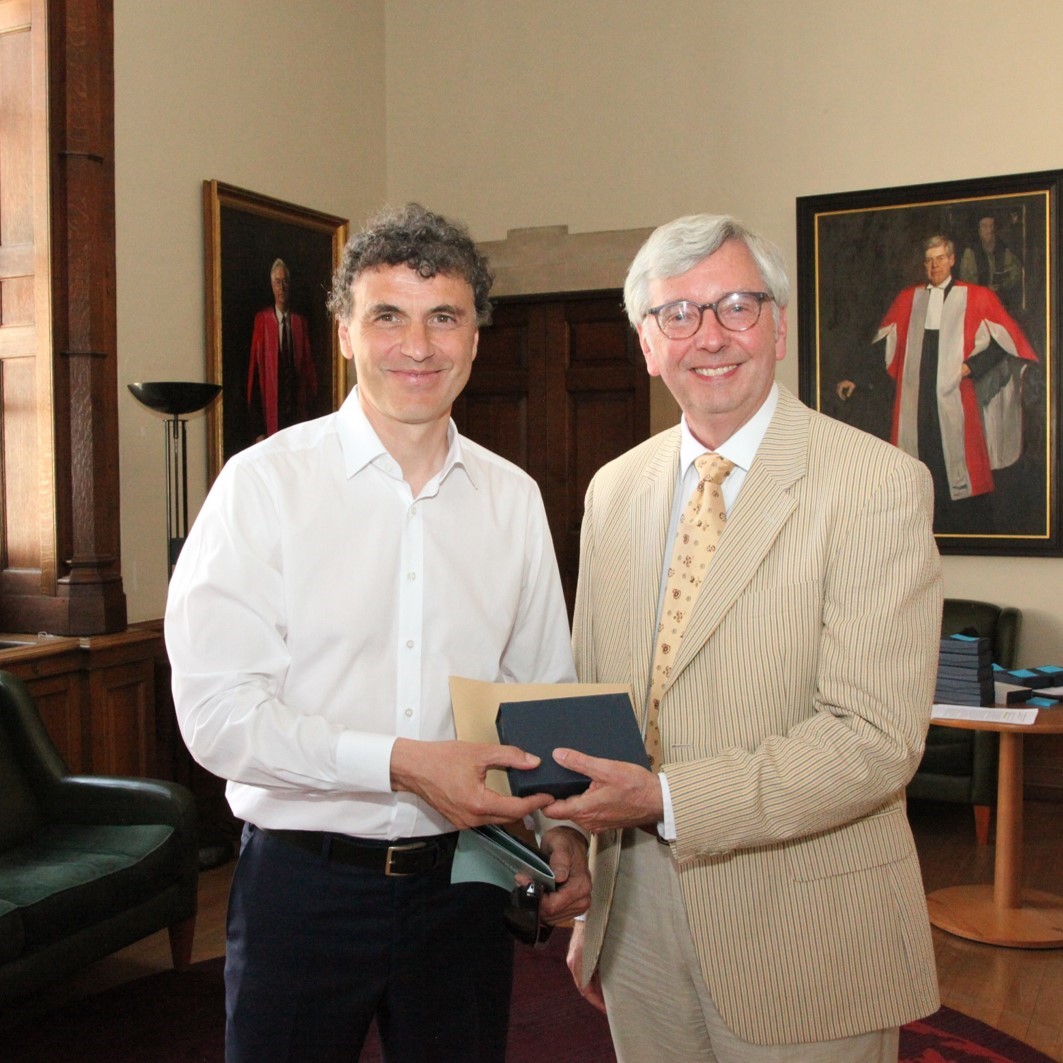 Professor Florin Udrea (from School of Technology) with Vice-Chancellor Professor Stephen Toope.
---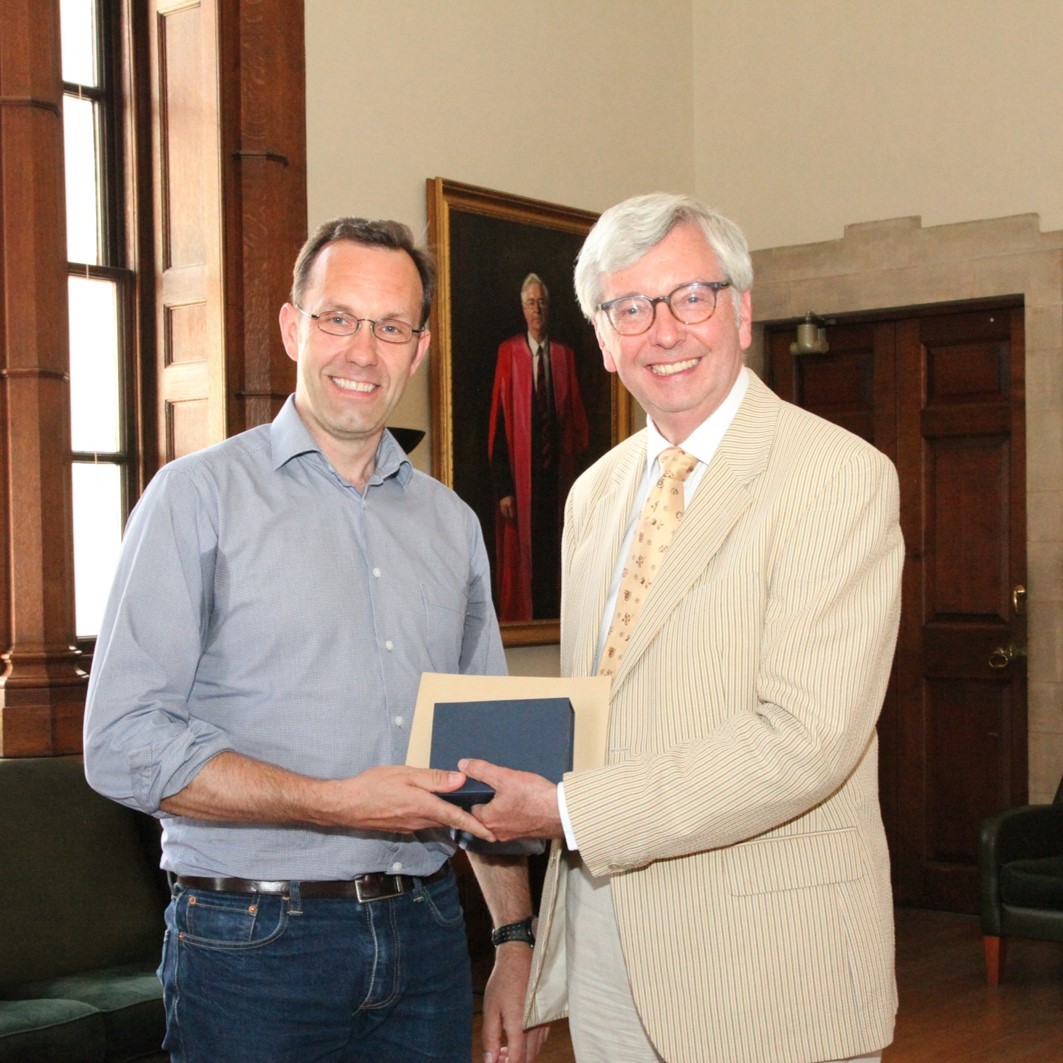 Dr Marko Hyvönen (from School of Biological Sciences) with Vice-Chancellor Professor Stephen Toope.
---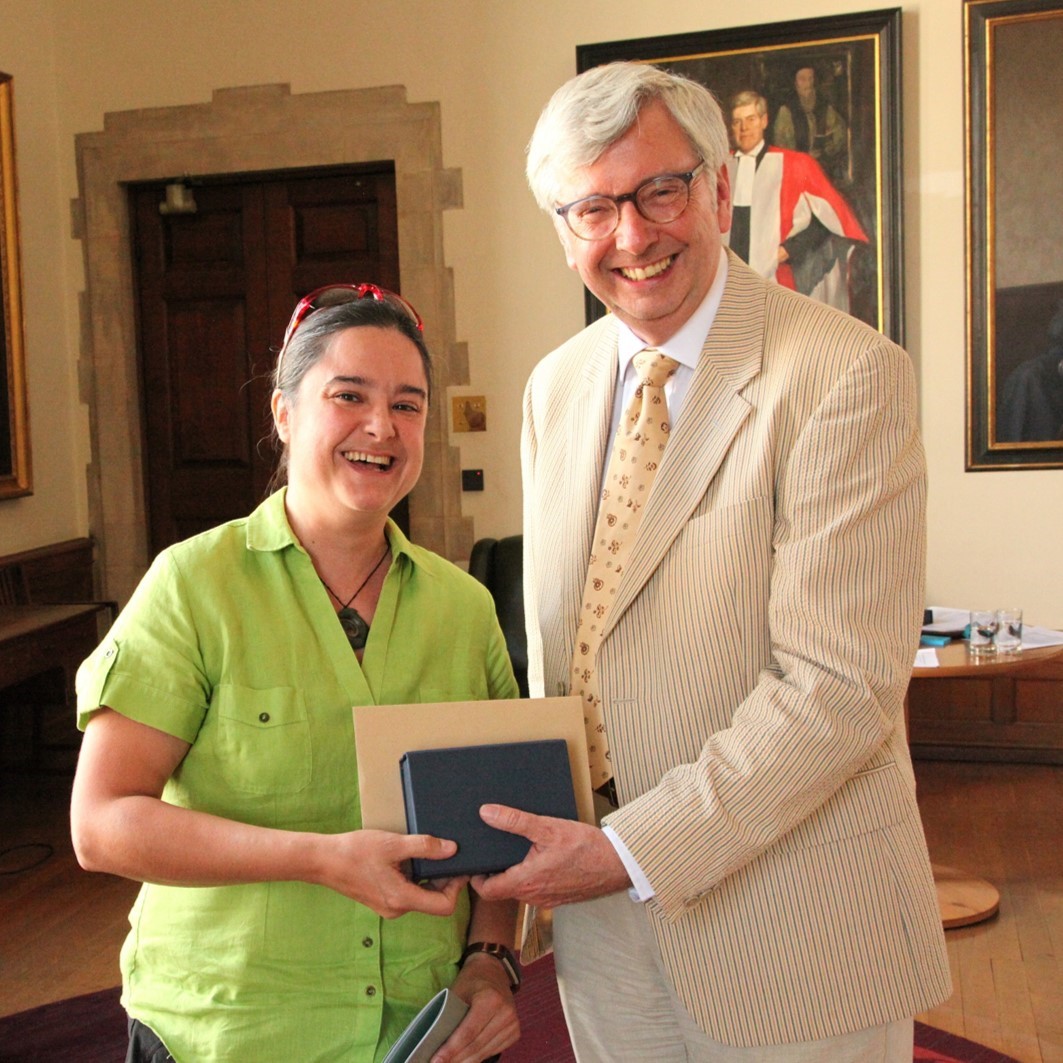 Professor Julia Gog (from School of Physical Sciences) with Vice-Chancellor Professor Stephen Toope.
---
Professor Timothy Cox (from School of Clinical Medicine) with Vice-Chancellor Professor Stephen Toope.
---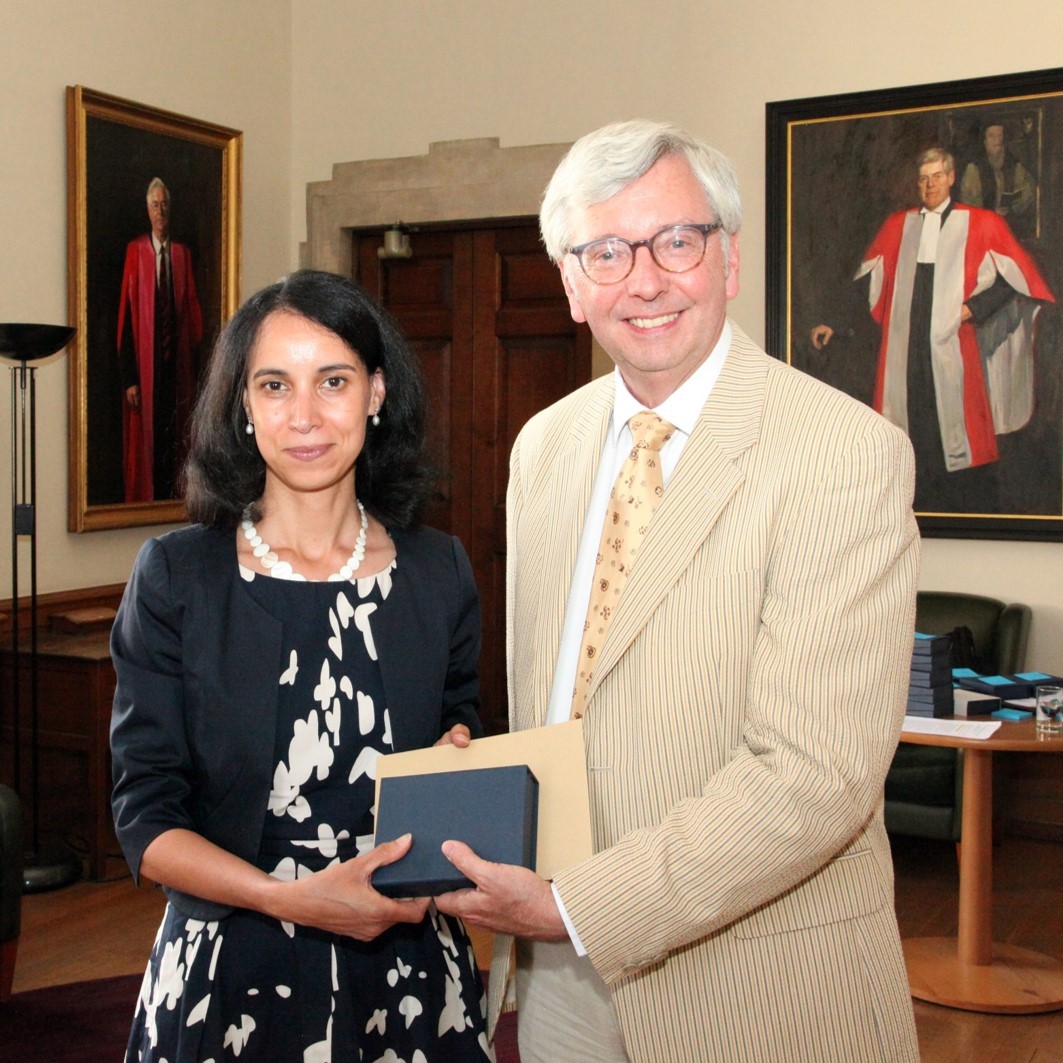 Dr Samira El Boudamoussi (In absentia: Dr Ryan Williams, from School of Arts and Humanities) with Vice-Chancellor Professor Stephen Toope.