The Vice-Chancellor's Awards schemes were established in 2016 to recognise and celebrate excellence in research impact and public engagement with research.
For 2019, the Awards are re-launching as a single set of awards for Research Impact and Engagement, aiming to celebrate a broader range of research impact and engagement achievements among staff at all career stages, including professional services staff.
The Awards will recognise outstanding achievement, innovation and creativity in devising and implementing ambitious engagement and impact plans which have the potential to create significant economic, social and cultural impact from and engagement with and for research. Underpinning research has to be conducted from January 2000 to date with impact generated from August 2013 to date. Please read the Guidance before you apply.
---
Award categories and eligibility
To exemplify the best of what Cambridge's newer generations of researchers can achieve in impact and engagement. Eligible applicants or nominees will be PhD students, postdoctoral researchers, or research fellows. Applicants should show significant achievements in research impact and engagement, with the potential to become future champions for impact and public engagement with research. Award candidates have to be based at Cambridge University at the point of submission and underpinning research has to be associated with the University of Cambridge.
For academic staff (excluding PhD students, postdoctoral researchers, and research fellows) who have demonstrated excellence in impact and engagement as an integral part of their research career. A strong link to underpinning research conducted at the University of Cambridge should be provided.
To celebrate the often collaborative effort in impact/engagement activities, this award category welcomes application/nominations of teams and partnership activities. Teams can be composed of members from all career stages as well as external partners. Please note that this is the only award category that allows for more than one applicant/nominee.
To recognise the commitment of University professional services staff who have demonstrated excellence in working with researchers and academics to facilitate research impact and engagement. Current staff with Public Engagement and Impact in their job description are also eligible to apply.
Academic Impact and Engagement Champion
To recognise the significant contribution made by academic staff who have acted as champions to inspire and engage others to achieve impact and engagement.
Each winner will be awarded a £1000 grant to be used for the development and delivery of engagement/impact activity or relevant training.
---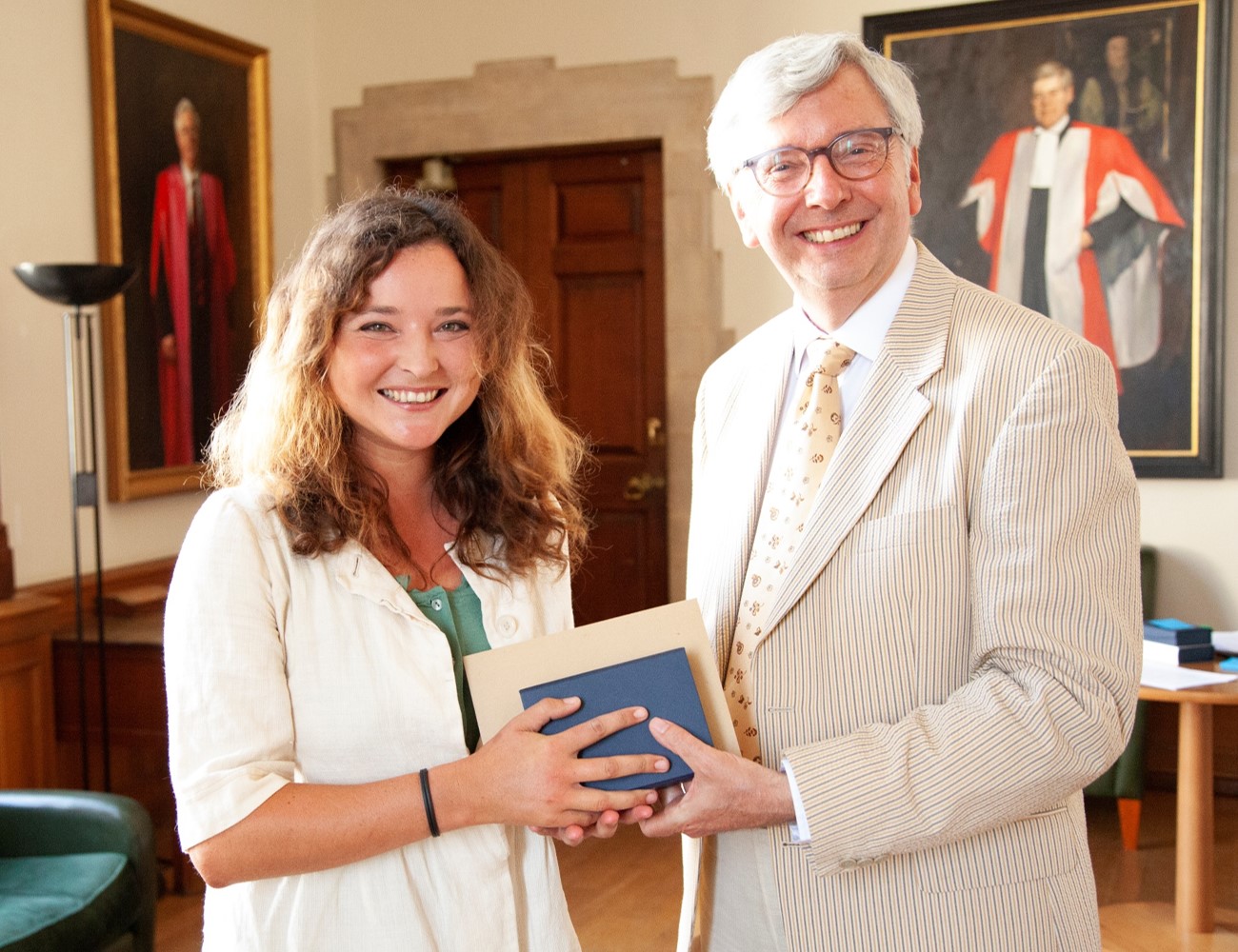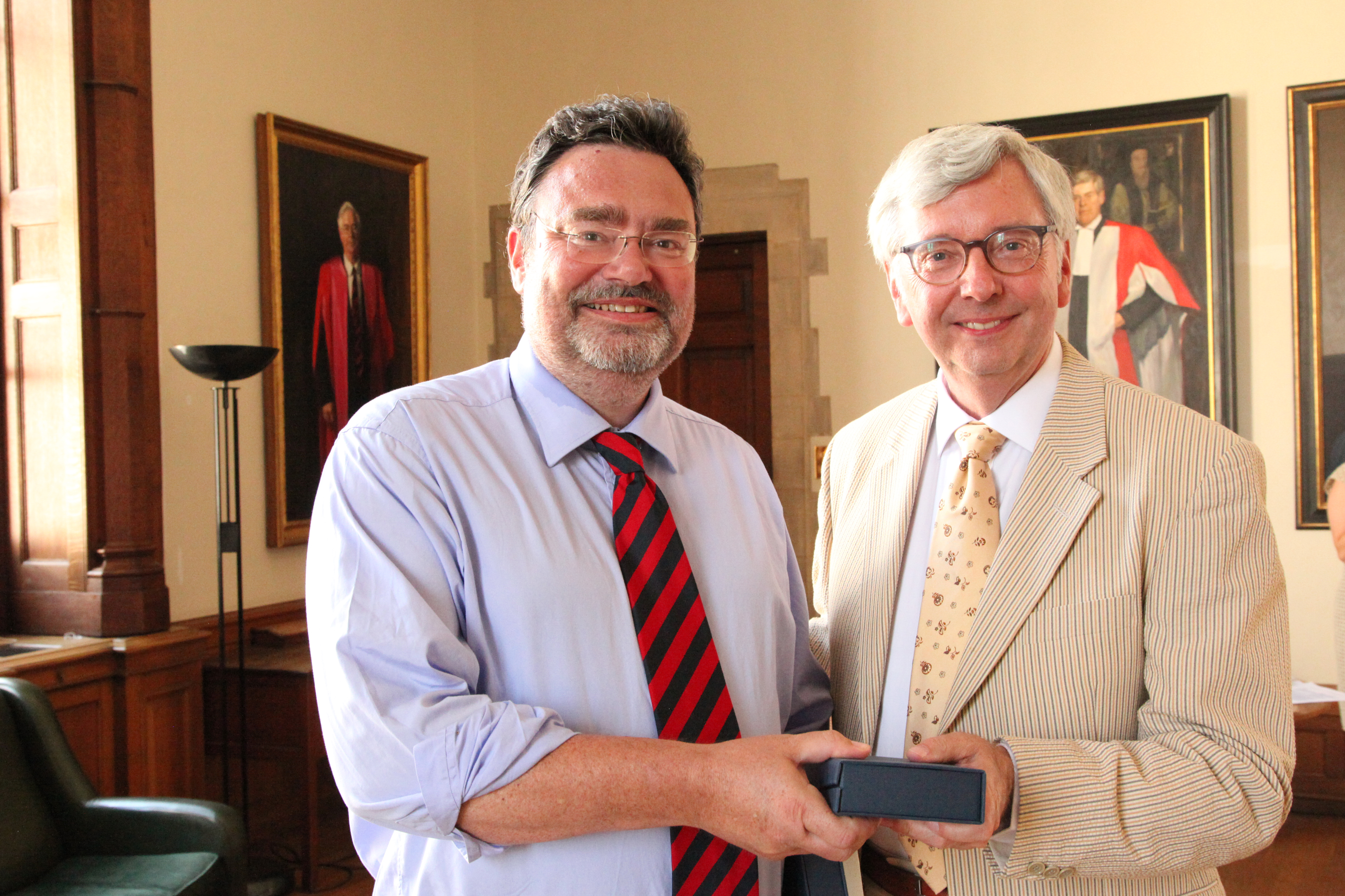 Charlotte Payne (PER Award, left) and Professor Marc Weller (Impact Award, right), Vice-Chancellor's Awards Ceremony 2018.
---
Scope of awards
We recognise that excellence in research impact and engagement spans a broad range of audiences and types of activity. Nominees are encouraged to include the full breadth of their impact and engagement activity in their submission.
Engaging stakeholders and beneficiaries in original and inventive ways helps reach new audiences. We encourage applications which can demonstrate either impactful long-term collaborations or imaginative approaches that have secured the participation of new beneficiaries and partners.
Award categories are open for individuals only with the exception of the 'Collaboration Award' which celebrates the value of teams and partnerships in impact and engagement activities.  
For the purposes of the awards, research impact and engagement activity may include any of the below:
Communication of research through a variety of media beyond the academic sphere;

Public engagement with research including, but not limited to, festivals, exhibitions, partnerships with arts, heritage and cultural organisations;

Engagement with policy-makers;

Engagement with business and industry collaborations;

Engagement with any other non-academic stakeholder group which creates social, economic and cultural impact from research

Commercialisation of research through spin-outs and licensing;

Partnerships with public services including education, NHS, local government, government agencies, or other public bodies;

---

 
How to apply
Those eligible for an Award (please check Award categories for eligibility) may self-nominate or can be nominated by a University colleague. Nominations/applications may be submitted to more than one Award category where suitable.
Read the Guidance carefully before completing the correct Award Form (Early Career Researcher, Established Researcher, Collaboration, Professional Services, Academic Impact and Engagement Champion).
Completed Award Forms should be emailed as Word files to publicengagement@admin.cam.ac.uk by 13 September 2019.
---
Vice-Chancellor's Impact and Public Engagement with Research Awards 2016-2018
You can read about Vice-Chancellor's Impact and Public Engagement with Research Awards 2016, 2017 and 2018 here.
---